DESIGN FACULTY AT QUEENS COLLEGE
September-December, 2017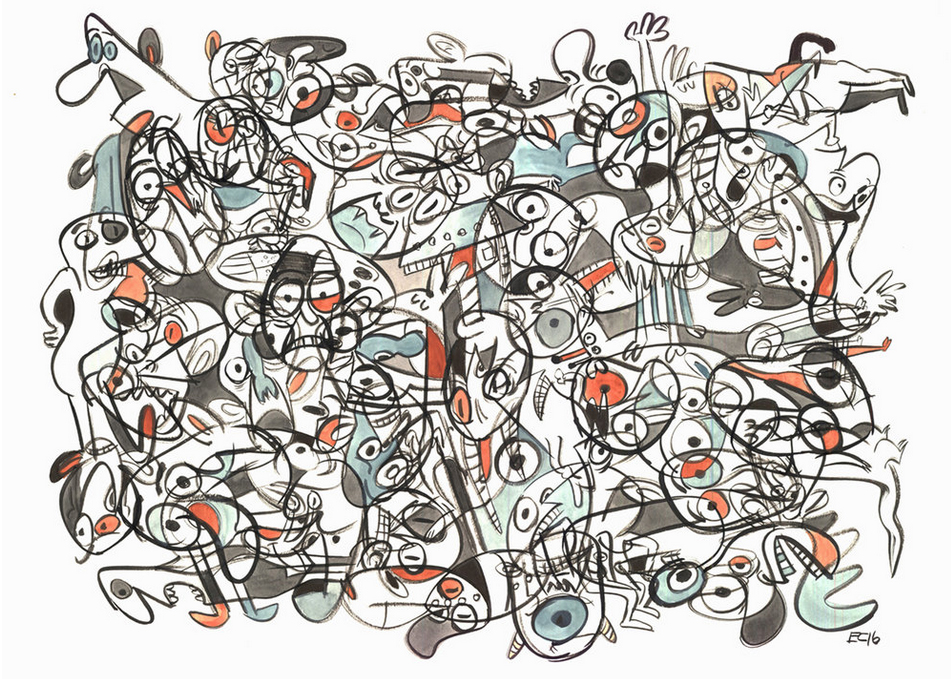 This exhibition explores the vast creativity of over 20 award-winning current faculty at Queens College, including Animation, Illustration, Typography, Interaction Design, Communication Design, and Fine Art. The exhibition celebrates the variety and depth of the Design Faculty's professional and personal creative practice and emphasizes the multifaceted nature of design in our daily experiences. The exhibition explores visual communication through printed and digital design; interactive digital and sculptural installations; seriality and the self; and cross-disciplinary inquiry. Public programs will include an opening reception, film screenings, professional development workshops, and talks by QC Design Faculty.
Image: Elliott Cowen, Bingo Bungo, 2016, ink and watercolor on paper, 18 x 24 in.
WAGING PEACE – 100 Years of Action
January-March, 2018

Waging Peace is an interactive exhibition organized by the American Friends Service Committee. Using provocative stories told by those who have fought against injustice, this exhibition demonstrates the effectiveness of nonviolence to build justice, overcome oppression, and to prevent violence. Through displays of historic artifacts and interactive media visitors explore the main themes of the exhibition: 1) Building Peace, 2) Ending Discrimination, 3) Addressing Prisons, 4) Just Economies, 5) Immigrant Rights and 6) A Call to Action. The GTM will expand on the exhibition themes by including historical posters, photographs and documents from the museum collection and the QC Civil Rights Archives. These materials offer firsthand accounts of the fight for social justice by Queens College students and faculty. In addition, the GTM will partner with the QC Art Department's Social Practice program to examine what a community is, how to foster engagement, what role a museum plays in a community, and what role a museum can have in the fight for equality.
Since 1917, the American Friends Service Committee has been a successful Quaker experiment in nurturing the seeds of change and respect for human life that transform social relations and systems. AFSC's century of work demonstrates the effectiveness of nonviolence to build justice, over­come oppression, and prevent and reconcile after many forms of violence. In their 100th anniversary, AFSC has a key opportunity to share powerful lessons from its history.
Save
Save
Save